The Ginger Light is a unique collaboration between Jeremy Reed and sonic soundscaper Itchy Ear. Bored by the staid glow of light that poetry recital currently bathes in. Jeremy and Itchy have collaborated to bring some "Ginger Light" to the performance in an attempt to blur the boundaries that exist between spoken word, music, sound design and song. Browse the media section for some promo films and live tracks.
The Ginger Light are available for private parties, functions, corporate events, fashion launches, festivals and London spectaculars.
For info and bookings
contact: gingerlight@gmail.com
Please keep up to date on our latest performances by joinging us on facebook
The Album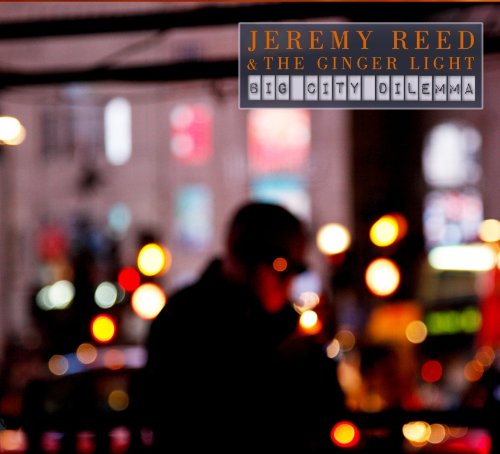 The debut album. 16 track cd digipak with 16 page colur booklet or for download.
Available on the Strikeforce label, via cherry Red records. More info and order here. Also available on Amazon.
Live On Resonance FM with Fari Bradley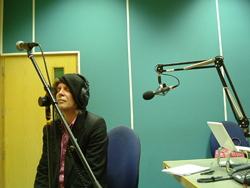 The Ginger Light Interview and In Session On Resonance FM (03/08/09) by Ginger Light
Next Performances
Please keep up to date on our latest performances by joinging us on facebook
June 2013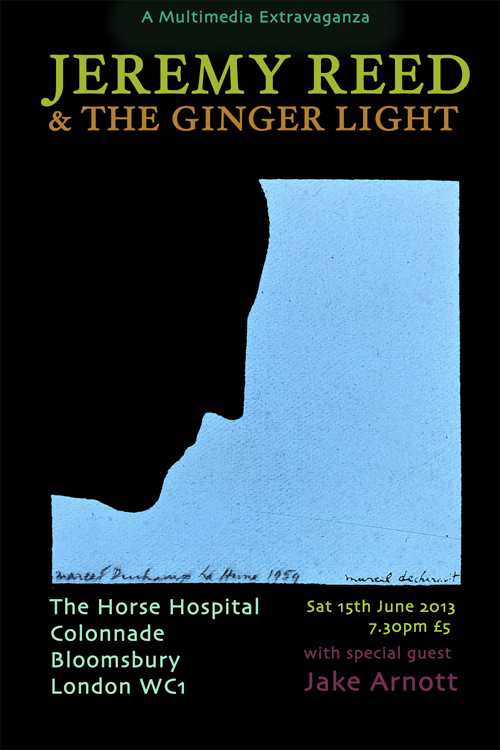 May 2013
Jeremy Reed & The Ginger Light will be performing at ARTY PARTY 21st May Sanctum Hotel Soho.
April 2013
Jeremy will be performing at the V&A Bowie weekender, Sat 27th & Sunday 28th . At 11.30, 13.30 & 15.30.
23rd Jeremy will be giving a talk at the Society Club Soho: Absinthe, Delirium and Rimbaud's Punk Attitude
Feb 2013
At The National Portrait Gallery. More Info here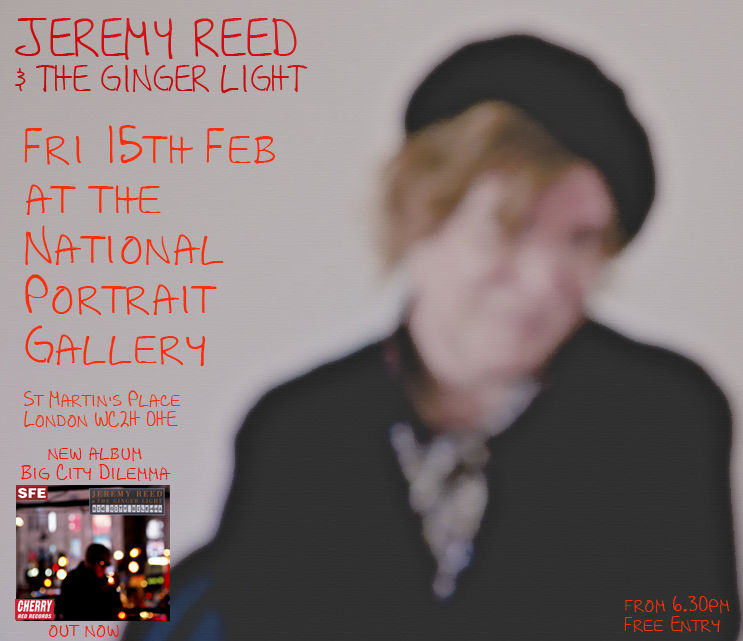 December 2012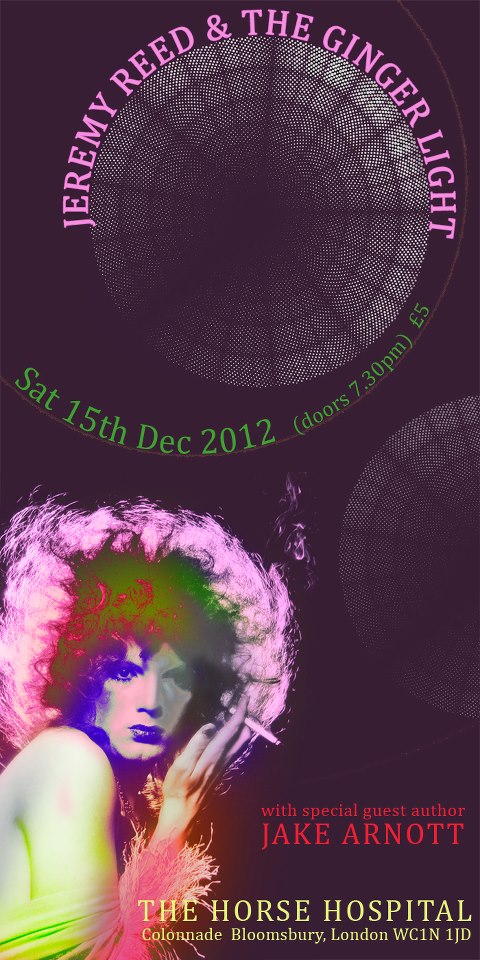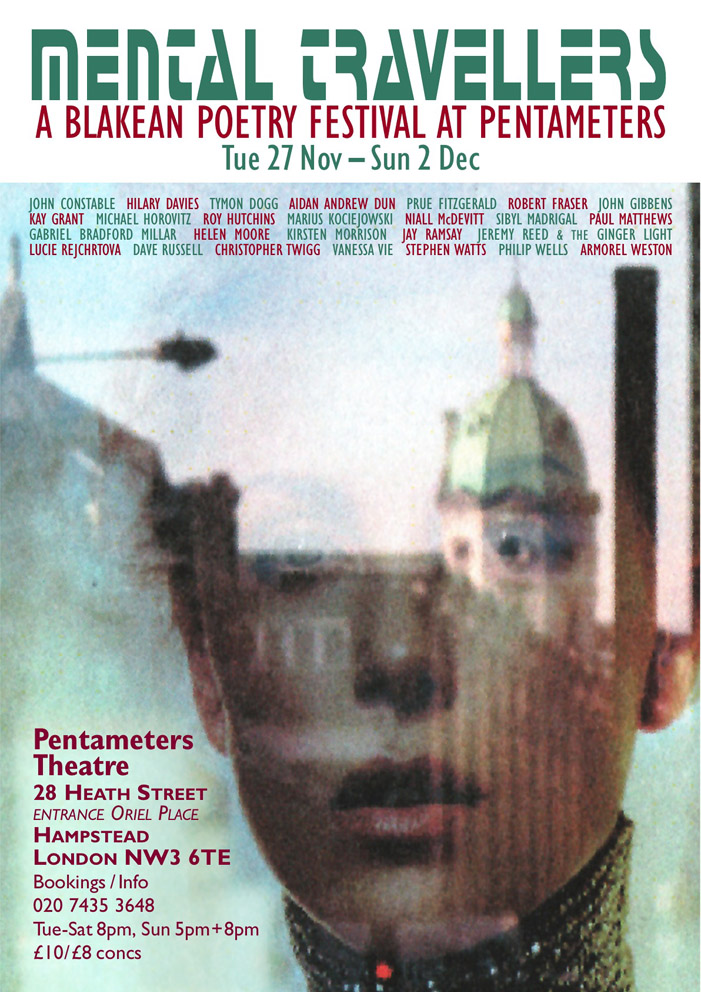 Saturday 1st December, 8pm. At Pantameters
64,000 GENII
Jeremy Reed and the Ginger Light, Niall McDevitt, Helen Moore, John Constable and Christopher Twigg perform poetry and music
Sunday 2nd December, 5pm, At Pantameters
AN EVENING WITHOUT DAVID GASCOYNE
Hilary Davies, Robert Fraser, Niall McDevitt and Jeremy Reed celebrate the life and work of England's greatest Surrealist poet
October 2012
11th October Paint It Black The influence of the Rolling Stones on British underground Poetry
A lecture with Jeremy Reed.
Chair Prof Grevel Lindop
Venue The Essex Unitarian Church Doors open at 7pm (nearest tube Notting Hill)
Lecture begins promptly at 7.30pm Concludes 9pm
Admission £5 or £3.50 Members of the Temenos Academy/Concessions
more info here
22nd October at the Chelsea Theatre as part of the Sacred 12/13 season.
More info and booking here.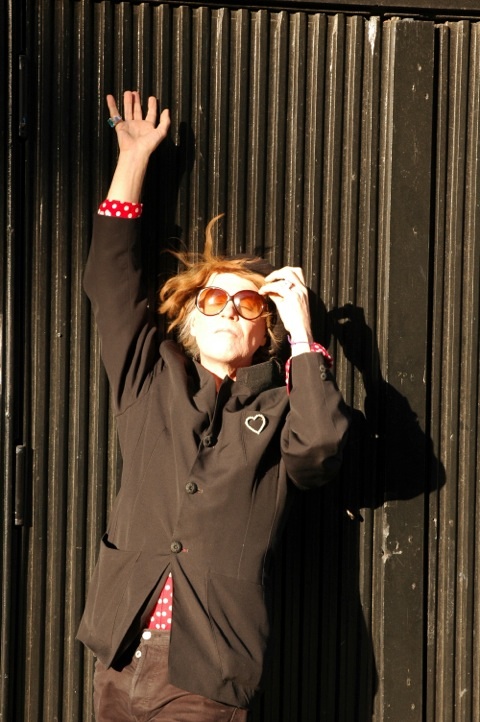 picture by Jamie Mcleod
25th October at The Horse Hospital as guests of the Light & Shadow salon. More info here.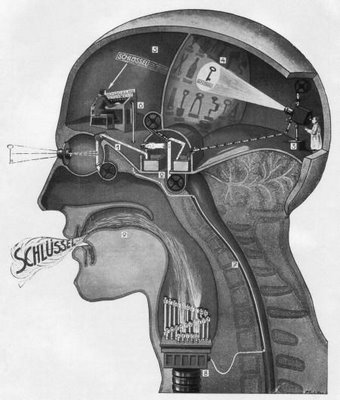 June 2012
June 30th at The Horse Hospital. 7.30pm.
March 2012
Sat 24th March. The Ginger Light will be performing at the Swoon spoken word festival this coming Saturday. Details below. Hope to see you there. Special offer on SWOON – as you are friends with Ginger Light, please flash STAR on the door and you'll get in for £12 – if you use the word in a quatrain, the best one will receive a fab prize! (If you've already got a ticket, the difference will be refunded.
Feb 2012
Sat 18th Feb at Duckie. Click link for full details
Dec 2011
Dec 1st Jamboree Cable St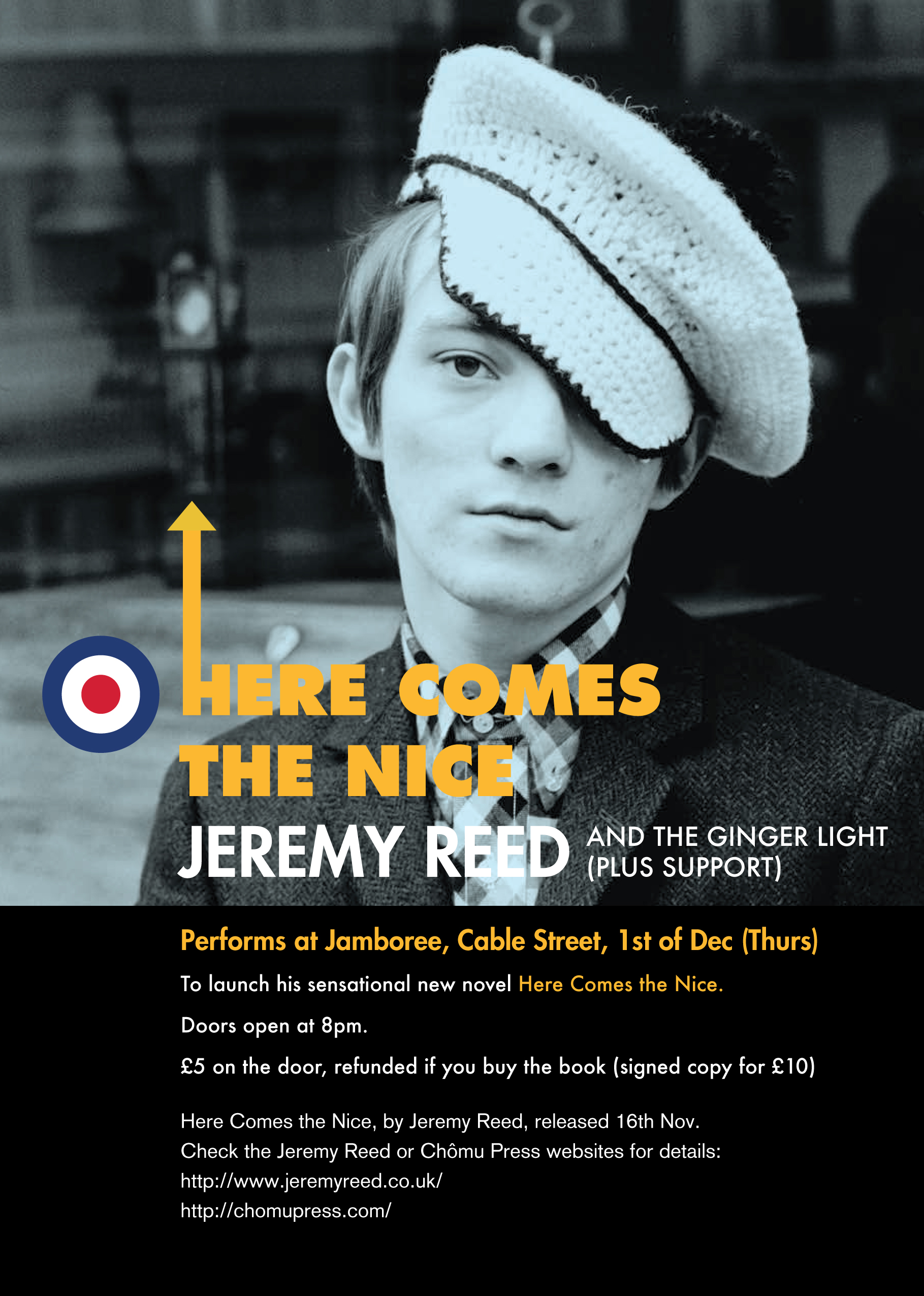 Nov 2011
Nov 26th at The Horse Hospital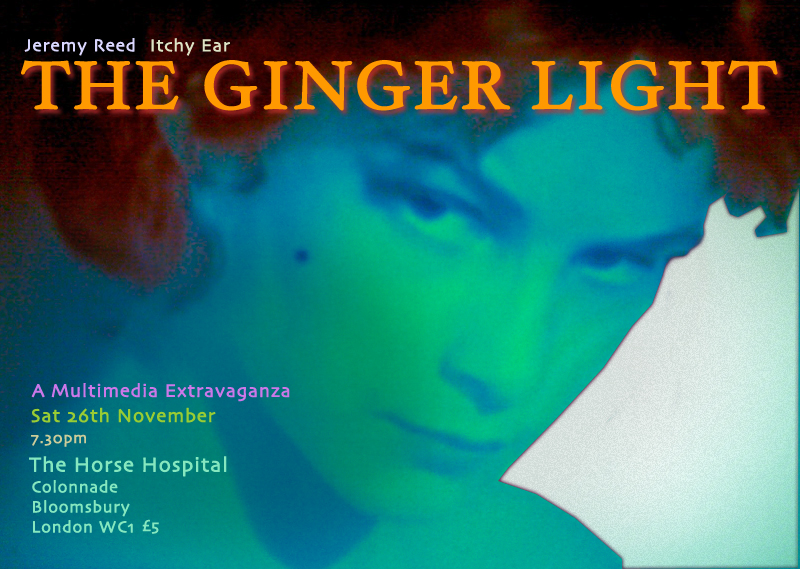 Oct 2011
This year's Temenos talk is on Christopher Marlowe.
Christopher Marlowe, Brawling and the Parish of St Giles, Wednesday 19 October 7pm at the Royal Asiatic Society. A dazzling subversive look at Kit Marlowe the archetypal punk. More info here.
Sept 2011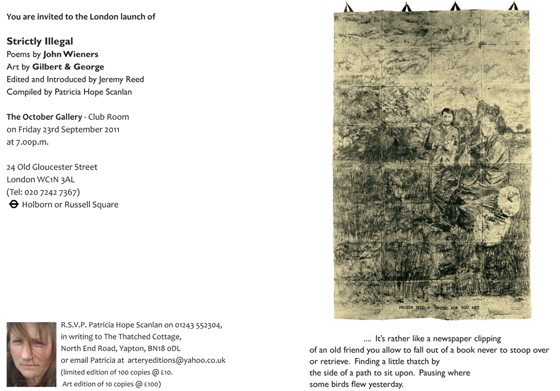 The DISENCHANTED Salon of Jean Genet will take place on 10th September 2011 at The Future Galley in London's Soho (5 Great Newport Street, WC2H 7HY). The exhibition will show the beauty of Jean Genet's Un Chant d'Amour and also how Genet's only film has a continuing influence on the works of filmmakers, artists and others in the performing arts. More info here
July 2011
Sat 23rd at the Horse Hospital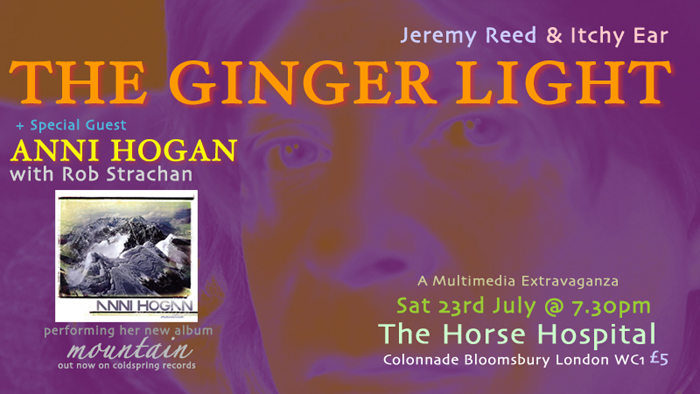 Mon 18th
a return to the Cabaret Futura as guests of the lovely Richard Strange.
The Paradise, 19 Kilburn Lane, London, W10 4AE
June 2011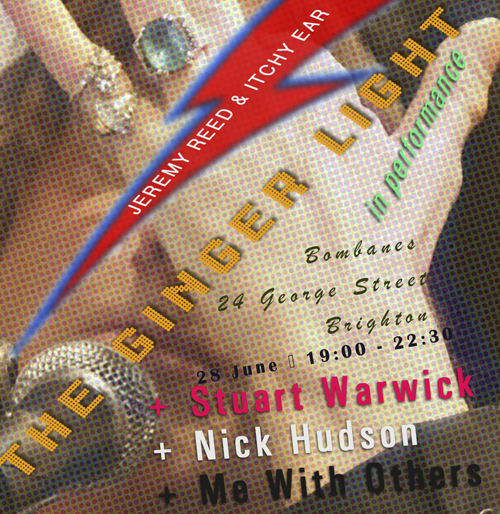 June 18th
Jeremy will perform at Bean Around The World in Jersey, St Helier.
May 2011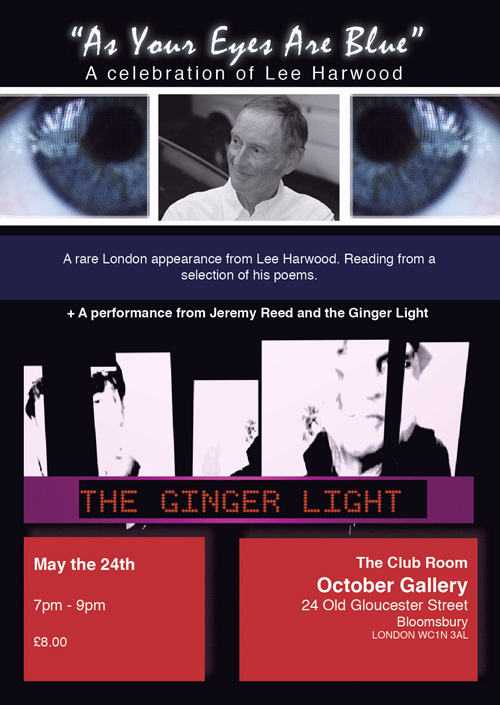 May 25
Jeremy Reed. Housman's Bookshop, Caledonian Road, King's Cross.
The Ginger Light in Dublin
To celebrate its 20th anniversary in May 2011, the Irish Museum of Modern Art is staging a special season of performances. The Ginger Light will perform on May the 27th in Dublin for more info visit the IMMA site. IMMA
May 29
jeremy Reed. Savoy Steps for Dylan's 70th birthday celebrations.
April 2011
Jeremy Reed and Bill Sherman, April 4 2011, King's Arms, 23 Poland Street, Soho.
March 2011
Jeremy Reed 19 March 2011, Hand and Racquet Pub, 48 Whitcomb Street, Soho
We will be supporting Marc Almond at Wiltons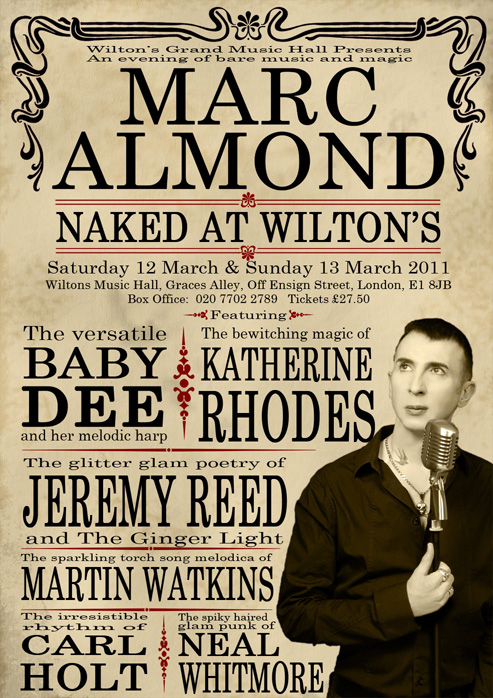 Feb 20011 dates
Rada 21st Feb 7.00pm
Jeremy Reed and Enitharmon Press
are delighted to invite you to the launch of Piccadilly Bongo
On Monday 21st February at 7pm at
RADA Bar
Malet Street
Bloomsbury
London WC1E 7HZ
RSVP to: Enitharmon Press
26b Caversham Road
London NW5 2DU
Tel: 020 7482 5967
email: info@enitharmon.co.uk
February 20
Jeremy Reed and Niall McDevitt, Blake's House, Marshall Street, Soho.
13th Feb 7.30pm
First Out
St Valentines day Mascara
an evening of unromantic poetry.
2010 Dates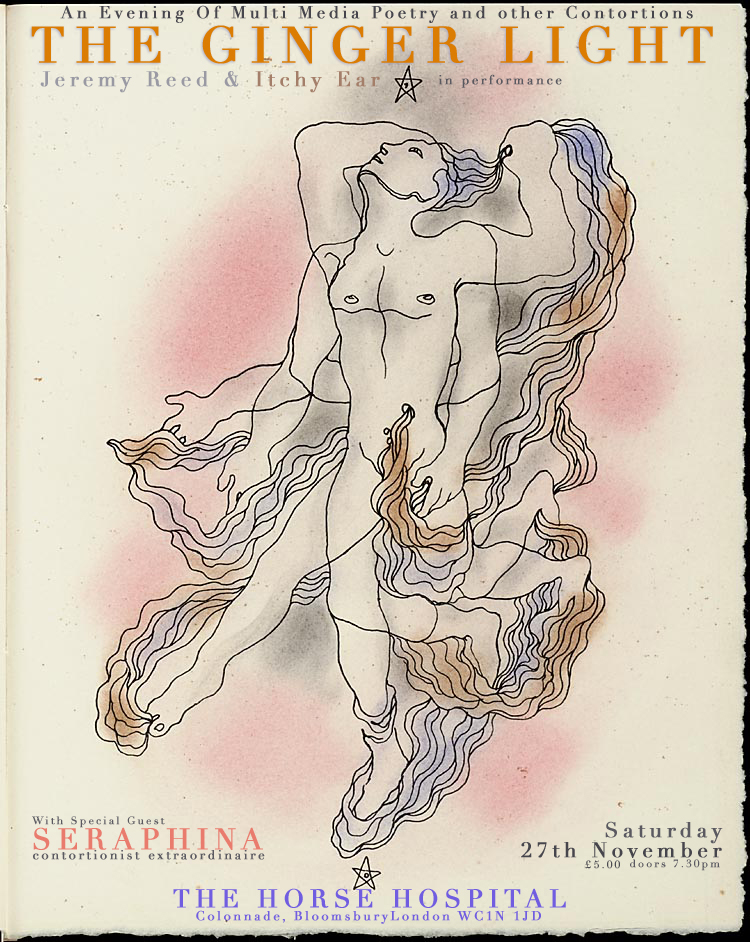 Fist Out Cafe - Oct 24th 7.30pm.
Royal Dalston Hotel - Vogue Fabric - Friday 15th Oct 2010 from 10pm
The Ginger Light will perform at Richard Strange's avant-garde Cabaret Futura this coming Mon 21st June. More info here and here
The Ginger Light will be playing the Mustard Club on Frid 25th June as well as in session on resonance fm on Tues 22nd Jun. More info here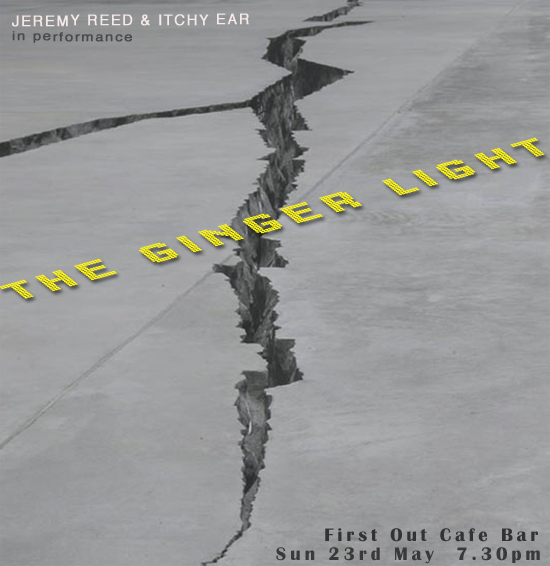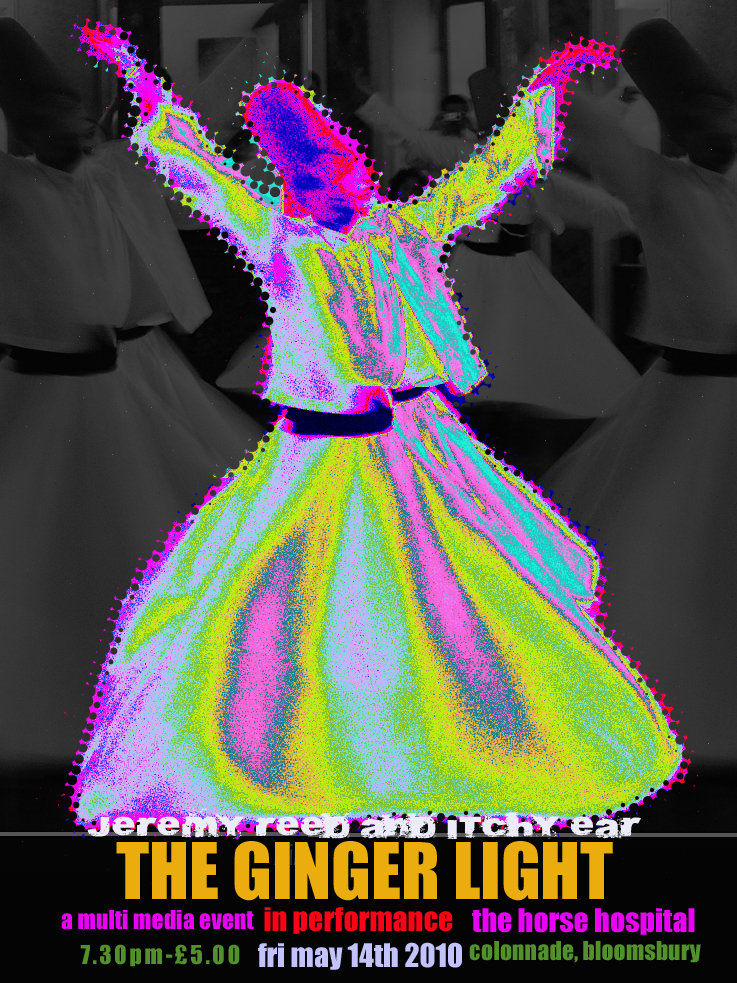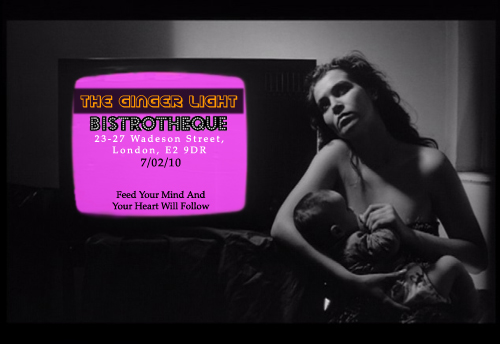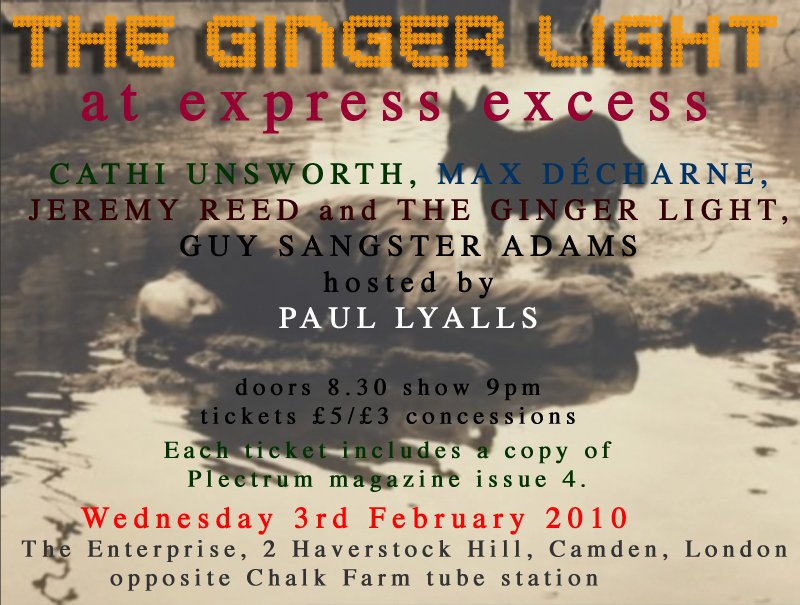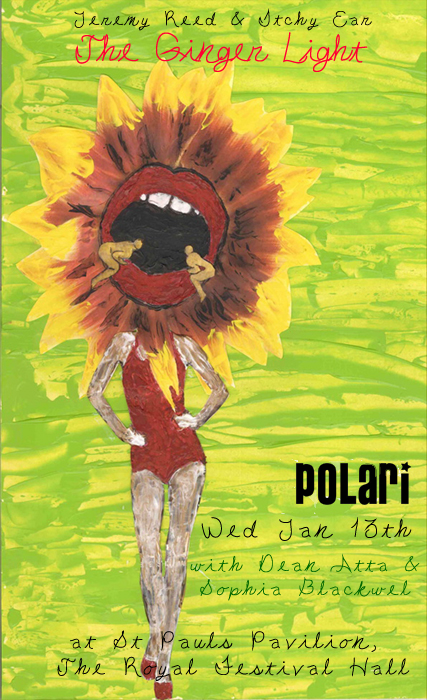 Amuti 23 Gallery Xmas Party 17th Dec, somewhere in Clerkenwell London.
Horse Hospital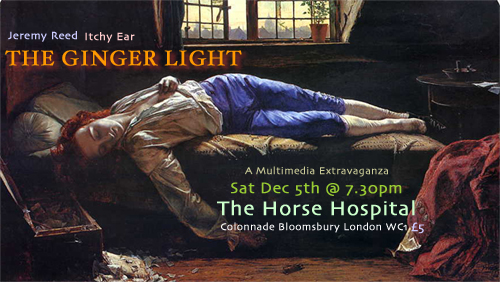 The Ginger Light will be screening some of their favourite short films before their performance at the Horse Hospital:
Antony Balch's "Bill and Tony" (UK, 1972). William Burroughs in conversation.
Bad Girl by Rita Says
Lou Reed, John Cale and Nico in performance at Le Bataclan in Paris, on January 29, 1972.
And the first movie version of Lewis Caroll's novel 'Alice in Wonderland', directed in1903 by Cecil Hepworth, with new electronic score by Itchy Ear.
Serpentine Gallery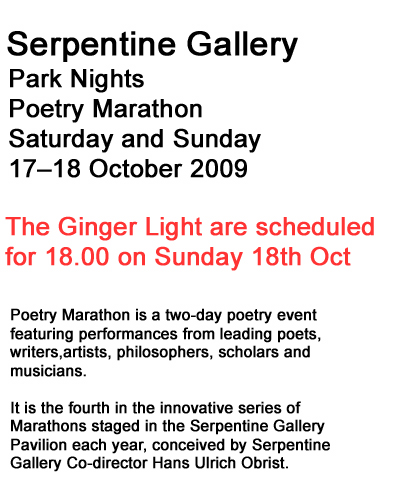 First Out Cafe Bar
11th Oct 2009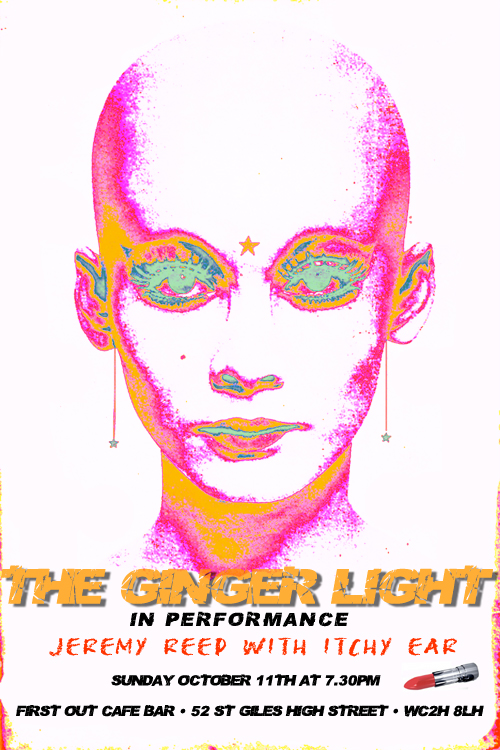 30 July 2009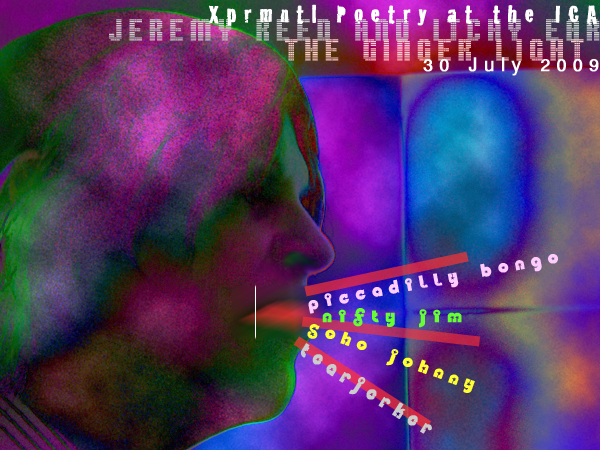 As part of our Poor. Old. Tired. Horse. exhibition, a night of live experimentation from some of the UK's most exciting poetry performers. Hosted by Chris McCabe with performances from Geraldine Monk, sound poet Peter Finch and legendary outsider Jeremy Reed as part of the ambient word-sound act. The Ginger Light. More info and booking here
4th of July 2009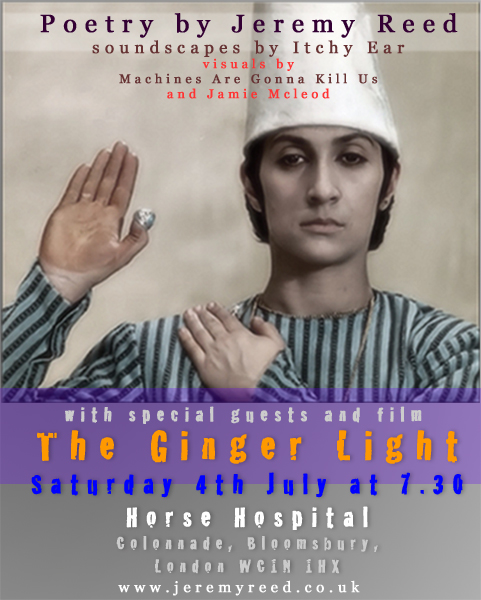 The Ginger Light have been invited to perform at the Horse Hospital in London on the 4th of July 2009. this will include invited guest performers, dj's and some specially selected film for the occasion.
This Ginger Light event on the evening of July 4 will feature peep show images from Machines are Gonna Kill Us and Jamie Mcleod.
A White, a Blue, a Yellow, Red.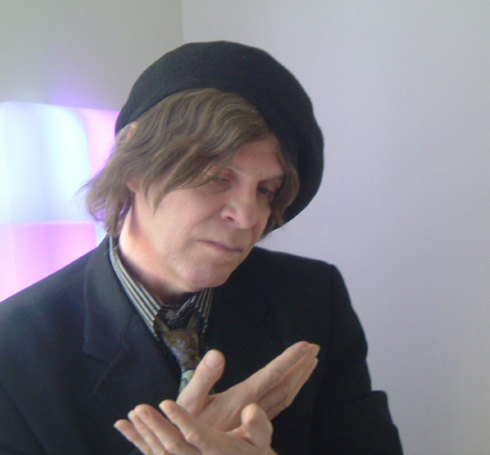 An online exhibition at the Craft Council website
Inspired by the diversity and creativity found in the Crafts Council Collection, the poet Jeremy Reed has selected five objects and in response written a poem about each. The Ginger light were commissioned to put music to Primary Orbits you can find the free download of this track at there site here